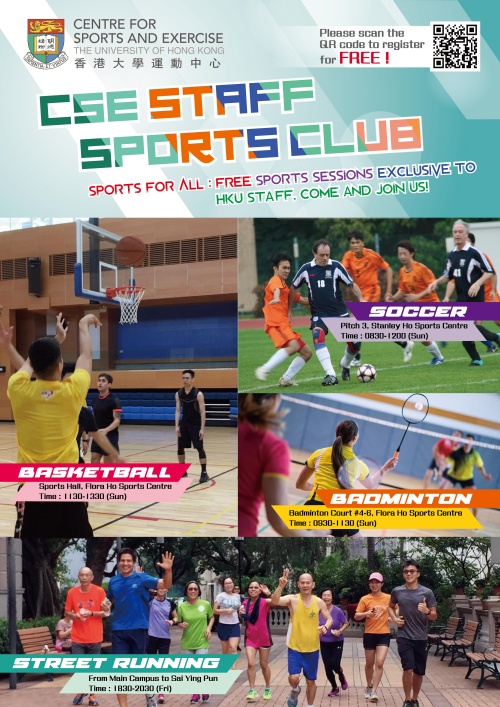 Team support - Venues:
The CSE aims to support as much as possible the use of CSE sports/recreational facilities and encourages the development of staff sports team participation in friendly training or competitions. The CSE also tries to provide regular bookings to CSE venues for recognized/legitimate HKU Staff Sports Teams that will be reviewed regularly to ensure efficient use of our facilities (based on availability and demands, and not purely historical).
Team support – CSE Staff Sports coordinator:
The CSE has allocated part of a staff's role to help coordinate issues to deal with HKU Staff Sports Teams. Should you need help, advice or to provide comments/feedback on how to enhance support for HKU Staff Sports Teams – please see below for contact info:
Mr. Raymond Lui, Facility Coordinator, Tel. no.: 25642328,
raylsf@hku.hk
Current Staff Sports Teams: Training Days, Venues and Times (subject to change):
Please feel free to attend the training sessions below in order to make contact with existing players.
Special Announcement (e.g. venue change, rescheduling, cancellation):
Basketball
Flora Ho Sports Centre Sports Hall
Day & Time:
1130-1330 (Sun)
Convenor:
Mr. Steve Kwok (
stevek16@hku.hk
)
Please drop an email to the convenor if you wish to join the session
Soccer
Stanley Ho Sports Centre, Pitch 3
Day & Time:
0830-1200 (Sun)
Allocation:
Click
HERE
Convenors:
Academic staff - Dr. Yuan Lin (
ylin@hku.hk
) ; Non-academic staff – Mr. Billy Lo (
yflo@hku.hk
)
Please drop an email to the convenor if you wish to join the session
Badminton
Flora Ho Sports Centre Sports Hall, Court #4-6

Day & Time: 0930-1130 (Sun), WALK-IN

Squash
Flora Ho Sports Centre Squash Court, Court #1-2

Day: Monday (Beginners) & Wednesday (Intermediate/Advanced)
Time: 1830-2030, WALK-IN


Cricket
Stanley Ho Sports Centre, Pitch 4
Day & Time:
1200-1500 (Every 2nd & 4th Sunday)
Convenor:
Dr. JIA, Shi Jayson (
jjia@hku.hk
)
Please drop an email to the convenor if you wish to join the session