Uni-Sports and Uni-Adventure

The CSE employs qualified staff to manage the University's sports facilities and promote physical activity through a Sport and Recreation Programme called Uni-Sports and Uni-Adventure. These programmes, offered during Semesters I and II and during the summer months, aim to introduce students to the benefits of physical activity and to introduce, develop and provide opportunities for participation in leisure-time activities and skills for current and post-graduation physical activity. Courses are offered in a wide range of activities for which qualified instruction and equipment are provided at a nominal fee to students. Full information on enrolment for courses can be obtained from the Flora Ho Sports Centre and
HERE
.
Sports Teams
The Centre for Sports and Exercise (CSE) provides an excellent environment for students to develop and explore their talents in different sports. With the support of CSE, over twenty sports teams have been established and are managed by CSE and its team advisors. The U-Teams represent HKU in the inter- university competition held by USFHK as well as AIG. Some outstanding sports scholars from HKU U-Teams have also taken part in major Games events such as Asia Games, Olympic Games, World University Games, as well as other prestigious international sports competitions.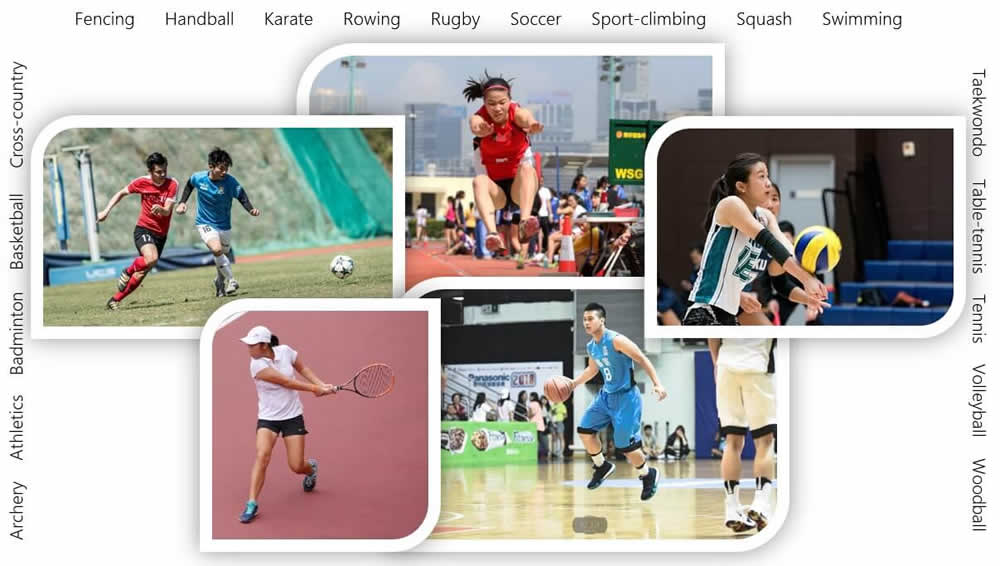 Earn the honor of representing HKU in competitive sport!
Full time students of HKU and HKUSPACE are eligible to represent HKU University Teams. If you are a sportsman or sportswoman and keen to try out for one of our many HKU University Teams, this is a good opportunity to come along and show your skills in a sport you already play well.
If you are new to a sport, there are also many sports where you can start at university and represent HKU. Come down to the trial days and meet some new people. Details on the tryout dates in September and October are as follows. To sign up, please click
HERE
to fill the form.
HKU Sports Team Selection Schedule
, please click
HERE
.
Inquiries:
Mr. Matthew Fung, Senior Sport and Recreation Officer (matfung@hku.hk or 2819-8117)
Ms. Homi Ho, Sport and Recreation Officer (homiho@hku.hk or 2817-2133)
U-TEAM SPORTS PERFORMANCE SEMINAR SERIES
Enhancing your knowledge on sports performance is one of key vehicles to maximize your sports potential and help you execute your best performances in the competition. This seminar series aims to introduce effective and scientifically-based strategies for enhancing sports performance and minimizing injuries for U-team members.
Inquiries: Mr. Matthew Fung, Sport and Recreation Officer (
matfung@hku.hk
or 2819-8117)
Sports Association, HKUSU
Sports Association, Hong Kong University Students' Union (HKUSU) was founded in 1912 and was first called The Hong Kong University Athletic Association. This association is under HKUSU and act as a bridge between 25 sports clubs and HKUSU. The main aim is to promote sports to members of HKUSU, as well as to monitor and assist the 25 sports clubs in organizing intra and inter university sports activities such as Inter Faculty Competition, Inter Hall Competition, and Annual Intervarsity Games etc.
For more details, please visit
https://www.facebook.com/HKUSUSA/
Morning Practice Sessions for student groups (Stanley Ho Sports Centre)
Available for walk in all year round to all internal student groups, no booking required.
Centre for Sports and Exercise, HKU
Student Groups Morning Practice Sessions (SHSC)
From 1 Sept 2020 to 30 Apr 2021
(Except Dec 2020)
Pitch (07:00-10:00)
MONDAY
TUESDAY
WEDNESDAY
THURSDAY
FRIDAY
1AB
Soccer
Lacrosse
Lacrosse
No Booking Dates
@0830-1000 on
Sep 16;
Oct 21;
Jan 18
2BC
Hockey
Hockey
Hockey
No Booking Dates
P2AB @0930-1000 on Oct 4
P2ABC@0930-1000 on
Oct 18, 25;
Nov 1,8,15,22,29;
Dec 6, 13
3
Soccer
Soccer
Move to P1AB
Nov 3, 10, 17
@0700-0830
Nov 5, 26
No Booking Dates
4AB
softball
softball
softball
No Booking Dates
@0900-1000 on Oct 20,27;
Nov 3,10,17,24;
Dec 1, 8, 15

Sep 17;
Oct 22;
Nov 19

*Please check the latest pitch availability through the online booking system as CSE may make adjustments without prior notice.